14 Shows to Stream While You Self-Quarantine
We all know best practice is to stay inside and avoid contact with people because of the COVID-19 pandemic. These are challenging times, and we all want to do the right thing. So that means, even if you have a small cough, you have to stay at home for a good 14 days. That's a long time in the house, and things can get boring pretty quickly. But fear not readers, I am here with a list of 14 shows that you can binge-watch while you're stuck inside.
We are only focusing on the five major streaming platforms for this one (sorry Harley Quinn). Links to trailers and clips for the shows are also down below.
My Hero Academia (Hulu)
The hit anime, My Hero Academia is such a binge-able show. Its structure is built for streaming because its stories are in 13-episode arcs. So you can watch one arc in about seven hours. The series is a coming of age story, that happens to involve superheroes. We follow Izuku Midoryia as he goes to a superhero high school and strives to become the greatest hero.
Brooklyn Nine-Nine (Hulu)
Also streaming on Hulu is Brooklyn Nine-Nine. A comedy series, we follow Jake Peralta as he and the rest of Brooklyn's 99th precinct work to keep their city safe. Nine-Nine is one of the funniest shows on television. The crazy antics of Jake and his supporting cast will always bring a smile to your face.
The Mandalorian (Disney+)
One of the shorter series on our list is Disney's The Mandalorian. Set in the Star Wars universe, we follow Mando as he tries to protect the child (baby Yoda). The series is a space-western, and something everyone can get into, even if you're not a huge Star Wars fan. If you're longing for some more Star Wars, once you're finished with The Mandalorian, check out Star Wars: The Clone Wars.
The Boys (Prime Video)
You guys thought Batman vs Superman was dark? Wait until you get a load of this series. Amazon brought us a live-action adaptation of The Boys and it's exactly what the superhero genre needs. It's dark, edgy, and twisted in just the right ways. It's definitely not a show for everyone but I highly recommend giving it a try.
Cutthroat Kitchen (Hulu)
Food Network's competition series, Cutthroat Kitchen, is for the sports fans out there. Alton Brown is our maniacal host, as he puts the contestants against each other. The premise is the same as any other cooking competition, but Brown introduces sabotages for the contestants to bid on, using the cash they'll win. So you can bid on items, giving you the best chance to win, but will take home less money. Or you can play it safe and not bid, meaning you'll likely get sabotaged, but if you somehow make it out, you get the entire pot. It's such a fun twist on the classic Food Network style.
DuckTales (2017) (Disney+)
Another series from Disney, DuckTales is a reboot of the original 80s series. We still follow Huey, Dewey, and Louie as they go on adventures with their uncle, Scrooge McDuck. This time, however, we have a more serialized story. Each episode is a new adventure, but we also have an overarching plot. The inclusion of Donald and Webby also breathes new life into the franchise. The show is funny, witty, and just an excellent time for the entire family.
The Crown (Netflix)
The next series on our list is The Crown. We follow a young Queen Elizabeth's as she has to deal with the loss of her father and to take the responsibility of the crown. Romance, drama, politics, British accents. This show has everything except for a fourth season.
The Good Place (Netflix)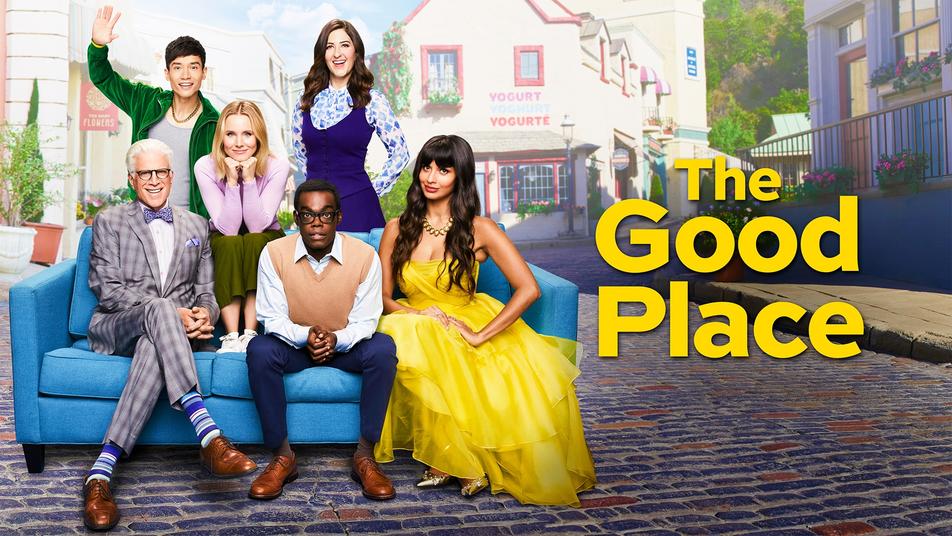 2020 has been rough, and sometimes we need to be reminded that everything is fine. That's where The Good Place comes in. We follow Eleanor, Chidi, Jason, and Tahani as they experience everything the afterlife has to offer. Somehow this little show managed to tackle things like the meaning of life, what happens after death, and moral philosophy while still being a fantastic comedy!
Chopped (Hulu)
Another Food Network show, this series puts chefs from around the country against each other. On Chopped, chefs have to prepare a four-course meal, but after each meal, a chef gets eliminated. Not to mention that their ingredients are chosen at random. Can these chefs make it to dessert, or will they be on the chopping block?
Chernobyl (HBO)
Another short series on the list, but if you have five hours, Chernobyl is a natural choice. It's the story of the Chernobyl disaster of 1986 and is one of the most intense shows of 2019. Chernobyl is short but is a story that stays with you. If it feels too short, just jump straight into Watchmen while you're on HBO.
Parks and Recreation (Netflix)
Another hit comedy, Parks and Rec is one of the funniest shows I've ever seen. With a host of crazy characters and real-world scenarios, Parks and Rec makes for a great watch. It's a mockumentary, but most of its humor comes from the rest of the scenes. The cutaways add context. Don't be a Jerry and give it a shot.
Cowboy Bebop (Hulu)
3, 2, 1, Let's jam! Cowboy Bebop is yet another anime and another space western. Spike, Jet, Faye, and Ed are a group of bounty hunters just trying to make a living. The show is another mini-series, but this is one of the most potent shows you'll ever see. It's light-hearted, sad, tragic, and funny all at the same time. Trust me; you're gonna carry that weight.
The Great British Bake Off (Netlfix)
I think The Great British Baking Show is must-see TV. I can't explain why this series is so popular. It's something you truly have to experience for yourself. There are no sports, so this show will get the competitive juices flowing. The series does change in later seasons, but don't let that stop you from having a fun time.
The Office (U.S.) (Netflix)
We all know most of America is just going to watch The Office and for a good reason. The Office is one of the best sitcoms ever put to screen. Michael, Jim, Pam, and Dwight make for some of the funniest moments you'll see. Just make sure you hide your staplers and keep a fire extinguisher near the temp.
The world is in a tough spot and things might seem bleak, but hopefully, some of these shows can put a smile on your face. Even if you don't need to Self-Quarantine, these are shows that everyone can enjoy. Thanks for reading and don't forget to wash your hands!
Latest posts by Michael Thomas
(see all)